To celebrate over 30,000 posts tagged with #embracethesquish, I wanted to make you, my squishy little beans, something small to say THANK YOU. I hope that every time you open your phone, you're reminded of how incredible and magical and ENOUGH you are.

Right-click / press and hold on the images below and save to your phone, then set as your background, and ENJOY!


I'm pretty sure that telling your loved ones a deep dark secret about your mental health is one of the scariest and most vulnerable things you can do. Kind of like giving a speech in front of a thousand people in your underwear.

You're thinking:

what if they hate me
what if I don't say it right
what if they think i'm weird/crazy/stupid/looking for attention
I could go forever NOT doing this, why should I
I'm just going to disappoint them
they're going to be angry with me

and one of the worst parts about struggling with mental illness in secret, is that we

isolate ourselves

because we're ashamed. We feel like we're the only ones going through that particular pain, or that no one else could possibly understand, or that we just need to toughen up and get over it.

We create the reaction in our own heads that we're afraid of getting from others,

and so of COURSE it's so terrifying to think about telling another human being, let alone someone we love - we've already practiced, over and over, all the hurtful things that they could say to us because we tell ourselves that every day. No one is better at hating us than we are.

But, as my personal hero Brené Brown so famously said,

"Shame needs three things to grow exponentially in our lives: secrecy, silence, and judgment. The less you talk about it, the more you got it."

Which is why I suggest to people, when they're getting ready to tell a trusted loved one about their eating disorder / depression / mental illness / etc, the most important thing is that you're TALKING about it. It doesn't matter HOW you do it, as long as you get the conversation started.

One of the most effective ways I've found to get the conversation started is to

WRITE A LETTER.

Not only does it create a comfortable and safe buffer between you and that person (and between you and your feelings), but it also gives you a runway to sit down and really think about how you want to express yourself. It allows you to see, on paper, the things you've been through. It gives you a perspective that, perhaps, all the things you thought were just "something you need to get over" are actually things deserving of help. That YOU are deserving of help.

When you're done with your letter, you can do a number of things:

seal it up and give it to that person for them to read on their own
keep it and read it out loud to them
keep it and use it as bullet points when you're having a conversation
hold onto it if you (or they) aren't ready

I promise: even just the simple act of writing the letter - even if you don't do anything with it! - can help bring you to a new mindset about your recovery / journey with mental illness.

Something to note:

even though we fight every single day to end the stigma of mental illness, that doesn't mean it's not still something the other people in our lives feel on a daily basis. There is still a lot of misinformation and prejudice — and often the people we love, and those who we want to be understanding and supportive, aren't. That is not your fault. You cannot control the circumstances in their lives that have made them feel the way they do about things. But you CAN control taking charge of your recovery. You can control who you let into your lives. If this experience shows you someone's true colors? Trust that.

You are worthy of recovery, and you are worthy of people who believe that, too.

​

On an unsuspecting Tuesday afternoon, I got a Twitter notification telling me that Netflix wanted to send me a private message. Being the loyal and subservient Netflix user that I am, I accepted without hesitation, only to find that they — THE Netflix — wanted to send

me

a pre-release version of their newest film,

To The Bone

. I was shocked. Then, I was honored! And almost immediately after, I was scared.

As someone who suffered with anorexia for over 3 years and has since come through recovery (still ongoing, as are most of us), I didn't particularly want to watch it. The trailer alone was triggering right off the bat (with rapid fire calories being listed off and quick shots of bones jutting out and body checking habits galore), which sent me reeling back into the deep and palpable archives of my disordered memory.

And so, I thought, the movie would be as well.

I wasn't entirely wrong — there's a lot of triggering imagery and disorder-fueled talk, gratuitous calorie mentions, an almost how-to plethora of tips and tricks for how to hide having an eating disorder, and, essentially, how to be most efficient at having one — but there's so much more to this movie than that. It's complicated, which is what makes it so much more dangerous.

And honestly? This is an unpopular opinion, given all it's recent press, but:

I didn't hate it.

I actually found it to be pretty well written and engaging, given the subject matter. I thought Collin's performance was fantastic. There were parts where I even laughed! Mainly, at jokes that only someone who's been there can understand. Only someone who's knowingly starved herself can laugh at someone sniffing the wrapper of an uneaten candy bar; laughed to herself at the words "I don't feel that unhealthy" because in her heart she's forced yourself to believe that she's in control, she's okay; found herself also wrapping her fingers around the fleshy part of her arm to check, to measure, to know.

But I also have a lot of issue with it, and it boils down to these two problems:

Lily Collins' weight loss for the role

, and

what that says about who this film is actually for

.

When we think about how movies are made, it's clear that talent is important - your lead actor (especially for a more independent film, looking to get picked up by a giant like Netflix) should be a star. They bring in the views, they bring the press, they bring the money. You, as a filmmaker, want someone to see your work and want to put money into it. It's a business. You want someone to buy it. And Netflix did, for $8 million dollars.

Casting Collins was a strategic choice. Noxon picked an actress that would be a draw: she's got a cool, quirky, Juno-like edge to her, one who would embody the character the writer and director had in mind: 20-year old Ellen, with an attitude problem, snark and "calorie aspergers." Collins herself has spoken about her struggle with anorexia, and it was her (and also Noxon's) personal connection to the mental illness that made her an easy, understandable choice.

But. Ellen is not the main character we need — at least, not in this way. She breaks no barriers and sparks no new conversation. She's just another white, 'beautifully tragic' girl (with a family who can afford 4 rounds of treatment) who has a restrictive eating disorder and looks like a walking skeleton. It's the same character we see in the media every single day, time and time again, reinforcing the idea that

this

is how anorexia looks, this is the only story worth telling. Ellen contributes nothing but the same tired face of restrictive EDs.

And let me be clear: the issue isn't that Ellen is white. It's not that she's thin, or upper class, or conventionally beautiful. Those things don't make her an unbelievable character

— but they do make her clichéd. To The Bone

could have gone in any number of other directions:

it could have been about Kendra, the plus size WOC in treatment (whose character is awarded no backstory and approximately 5 lines), representing the story of so many marginalized voices in the ED community whose pain is never validated;
it could have been about Ellen's sister, who sees her life bookmarked by her sisters illness; it could have been about Penny the pregnant girl in treatment;
or Lucas, the (still stereotypical, somewhat effeminate, sexually ambiguous) male ballet dancer whose dancing career is ruined due to osteoporosis cause by malnutrition and over-exertion.

All of those are real, devastating storylines, lived out by so many real ED sufferers. Show me THAT movie, instead.

But we'll never see that movie, because Netflix wouldn't pay $8M for it. It's not cool, or flashy. There's no guarantee that people will watch it. But with Collins, there is.

And there's nothing wrong with wanting to make a movie that gets a lot of viewership.

But why the weight loss? By casting someone like Collins, they'd already secured views. Her face and body are already used as 'thinsporation' on countless tumblr and pro-ana sites (and even photos of her during filming have now started circulating). So why, in a film that seeks to break barriers when it comes to talking about eating disorders — a film that Noxon says was meant "to serve as a conversation starter about an issue that is too often clouded by secrecy and misconceptions" — why did they have her lose weight in order to "convincingly" portray someone she already was (an anorexia sufferer)? Why reinforce the stereotype you say you want to break?

You could say, 'there needs to be a level of shock factor.' And it certainly is jarring. Anorexia (like any eating disorder) is not beautiful. It's not sexy. It's not glamourous. This movie (in my opinion) doesn't portray eating disorders in that way. And yes, some people DO get to a low weight like Ellen. I know some of them personally, and their disorders are just as real and painful as someone who never became that thin. It's not a question of which visual is more or less 'sick,' or more or less worthy of help. It's the fact that when the media consistently personifies anorexia as a skeletal, white, beautiful girl, it sends the message that this is the only story worth telling — that if you don't look like this, you don't fit the requirements for an eating disorder. You're not sick enough.

How would the role have been perceived differently, had Collins stayed her natural weight? If she had played the role exactly the same, if the movie had been exactly the same, except for Ellen's appearance?

You wouldn't have been able to outwardly tell that she was starving herself, exercising to the point of injury and exhaustion, losing her periods ... but she would have been. You would have seen it in all the same places exemplified in the movie — the only difference would have been that she would have looked like a much greater majority of the people watching the film. She would have been what most anorexics look like: unassuming.

The reception to

that

character would have been one of two: either people would have celebrated a movie that chose not to show an emaciated anorexia sufferer, or there wold have been uproar that Ellen's character wasn't a "believable anorexic."

Either response

would have created productive conversation. It would have challenged the idea of what eating disorders look like.

And that brings up my other question: if Collins was required to be skeletal in order to play Ellen,

who

is this movie actually for?

It's

not

a resource for those currently struggling as it's triggering in many parts, and not once is there any mention of NEDA (national eating disorders association) or any hotline or treatment facility information.

It's

not

for educational purposes, because not only does it provide zero new information about them (it's still the same thin, white, rich girls who are all at low weights), but it also

sends the false and damaging message that treatment doesn't work

. Ellen has been to treatment four times — and as she even points out before she leaves, none of them are getting any better.

It's

not

for the majority of ED sufferers who aren't like Ellen, who don't reach dangerously low weights, who don't look like the stereotypical anorexic (which this movie features), or who don't think they're sick enough. It's not for the millions of people struggling with binge eating disorders / non-restrictive disorders / EDNOS (eating disorder not otherwise specified), who don't or can't see themselves represented here. It isn't for people who haven't been diagnosed, or who don't know how to recognize the signs and symptoms of disordered habits.

So who does that leave? People who've never been touched by EDs, and people who want to watch this movie for entertainment value. And there's nothing wrong with making a movie for entertainment, but at whose expense? What does this contribute? What does this add? Noxon even said in an interview with Vogue, "We didn't film anything a woman or man who's already conscientious about their weight wouldn't already know." And in response to none of the minor characters being further developed? She explained, "It's not a documentary." So what's the point?

Noxon had a major opportunity to do something different here. At the bare minimum, she could have changed the entire message of the film by featuring Ellen at a stable weight. She could have fleshed out 4 different storylines (Ellen, Luke, Kendra, and Penny), and had them all center around treatment. She could have changed the ending; instead of a flash of insight in (sorry, but really?) a forced dream sequence, she could have ended it with Ellen dying on that mountain (she is, after all, one day away from a feeding tube and "dying right in front of us.").

​

But all Noxon did was make another movie about anorexia that I won't recommend.
Powered by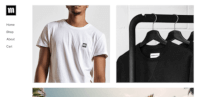 Create your own unique website with customizable templates.